A North Vancouver Roof Cleaning project
Before and After pictures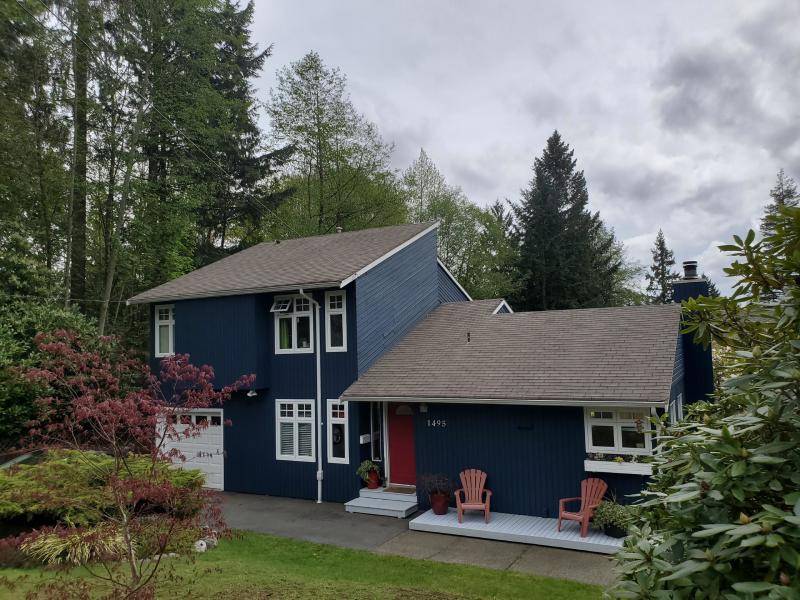 The situation
This North Vancouver roof cleaning project was completed in March, 2020. The before and after pictures came out quite dramatic, as the moss had built up to the point where it had begun to sprout. This customer lived right next to a green belt which contributes to moss growth in two ways.
First, trees provide shade which allows water to remain on the roof and provide the moisture necessary for moss and algae growth. Second, moss spores can be transferred by the wind from the moss growing on the trees to roof other surfaces, particularly roofs.
Living next to a green belt can mean that you may see moss beginning to grow in a period of four to seven years, which is considerably shorter than the standard ten-year moss growth cycle that roofs with no obvious overhanging trees generally see. In cases like this, we would recommend treating an asphalt roof every three to four years to stay on top of any potential new moss growth.
There were two main issues on this roof. There were dirty black algae streaks covering the surface of the shingles as well as a thick covering of moss.
How we cleaned this North Vancouver roof
Before treating this asphalt shingle roof, it was important to prepare the roof treatment. To do this, we removed the around 90% of the moss manually with brushes and then used gas powered air blowers to clear the roof off. After cleaning the gutters and the ground, we applied our chemical sterilization treatment to the roof. The treatment instantly killed both the algae and the moss, but both react different when killed. The black algae nearly completely disappeared, while any remaining moss turned white.
In the pictures posted you can see the before picture, a picture from immediately after cleaning the roof, as well as several weeks later. In the immediate after photo, there are still traces of dead white moss up on the roof, but the algae has largely cleared up. The remaining moss is the result of us only brushing what can be safely removed during treatment preparation. However, if we look at the photo from just a few weeks later that remaining roof moss has broken down and naturally released from the roof. At this point, the roof is both sterilize and looking like new.

What the homeowner can expect going forward
Homeowners with similar proximity to old-growth trees should consider a maintenance treatment every three to four years. Waiting until the fifth or sixth year will result in enough moss accumulated on the roof that it may make sense to re-brush the roof, at least in parts.
For more information on how we clean asphalt shingle roofs, click here. Or for more information about North Vancouver roof cleaning, click here.