Tips for Maintaining Your Asphalt Shingle Roof
Asphalt roofs are popular for their durability, affordability, and easy maintenance. However, neglecting your roof can lead to staining, algae growth, and other issues that can damage your roof. In this article, we will provide you with tips on how to keep your roof clean and well-maintained.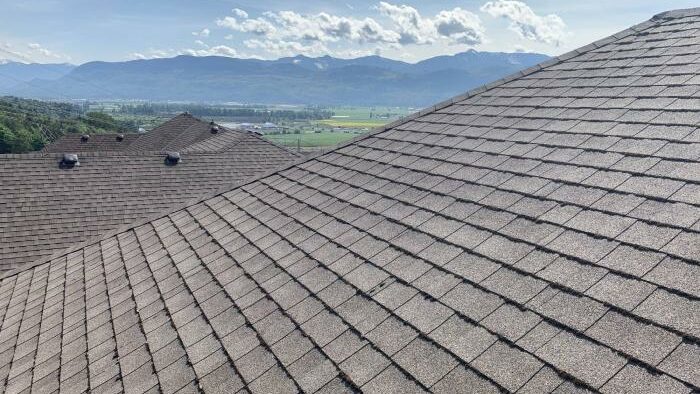 Maintaining Asphalt Shingle Roof
Removing Stains from Asphalt Roofing
Algae growth and other stains can make your roof look unattractive and decrease the resale value of your home. To remove these stains, you can use the following methods:
Chemical Cleaning: Products like Wet & Forget and Moss Out are available for removing algae stains. Use them occasionally, as frequent use of chemicals can harm your roof.
TSP, Bleach, and Water: Mix 1 quart bleach, 1 gallon water, and 1/4 cup trisodium phosphate in a pump spray. Apply the mixture to the roof, wait for 15 minutes, and then rinse it off.
Oxygen Bleach: Mix oxygen bleach with water, put it into a pump spray, and apply it to the roof. After 10-15 minutes, scrub it with a brush and rinse it off. This is an environmentally friendly method.
Household Bleach and Water: Mix 50% bleach and water, spray it on the roof, and scrub it.
Algae Resistance Shingles
Consider using algae-resistant shingles to save yourself from cleaning hassle in the future. Many roofing manufacturers now use copper granules in their products to produce algae-resistant shingles.
Tips for Asphalt Roofing Maintenance
Clear Debris: Remove debris, such as leaves and trash, from your roof a few times a year.
Check for Moss and Algae: Moss and algae growth can deteriorate shingles and lead to their destruction. If it's present on a small portion of your roof, you can remove it using zinc or lead control strips. Seek professional help if the growth is abundant.
Check Flashings: Examine your roof flashings for cracks or openings that can cause water intrusion or leaks. Get them fixed immediately.
Loose or Damaged Shingles: Weather conditions can damage or loosen your shingles. Repair loose or leaking shingles with roofing cement or replace them if they're damaged.
Keeping your roof clean and well-maintained is crucial for its longevity. West Coast Moss Removal provides quality roof cleaning services in Vancouver and the Fraser Valley area. Our team of experts uses environmentally friendly products to ensure your roof remains in excellent condition. Contact us today to schedule your roof cleaning service.