The Annual Roof Cleaning Plan
Even though maintaining a healthy and well-operating roof can be a big undertaking, it is a good idea to address this task every year. If it is neglected, maintenance soon becomes repair, and that is a much more expensive proposition. Knowing what needs to be done is probably more than half the battle. If West Coast Moss Removal is your service, we can tell what needs doing. With our moss and algae removal services on the job, you won't be waiting until your maintenance fee turns into a repair bill.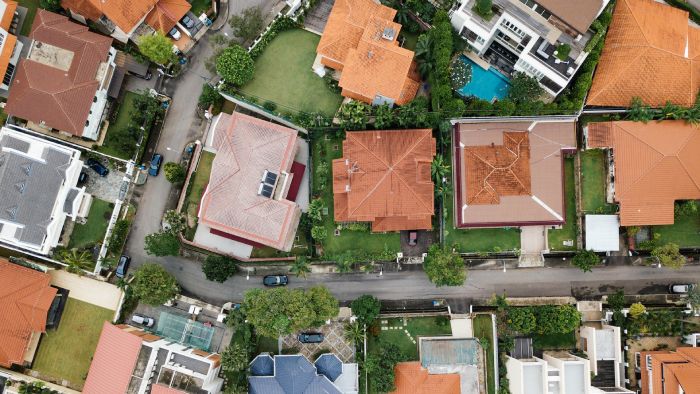 Annual Roof Cleaning Plan
Many home repair jobs can be handled by the homeowner, but there are some, like roof cleaning and gutter cleaning, that are probably best left to the professionals. The West Coast Moss Removal professionals specialize in this process and have the equipment and know-how to do the most thorough and safe job. Whether you need us there to do it for you or want to discuss it with us, we have your answers.
It is a good idea to plan and schedule this job so that it becomes locked into a date that you don't put off. There are some components of the plan that you should be sure to include:
Roof Cleaning: It may be time for professional cleaning to give your home that fresh, well-cared-for look. If you notice increasing moss and algae, it is time to act. Moss and algae can cause damage to the roof if left untreated, as they both have the potential to weaken a roof's shingles and ability to protect. Cleaning off the moss and algae can help prevent further damage and extend your roof's lifespan.
The initial roof cleaning service, which includes the chance for us to conduct an initial inspection of your roof, has a two-year warranty. We do advise you, during this time period, to conduct a routine spray treatment every two to three years. This will prevent any further build-up of moss over time, which will help limit the amount of physical work being done on your roof, increasing the chance of a longer lifespan.
Gutter Cleaning: This service is determined by the uniqueness of your home and its setting. Gutter cleaning should be performed once or twice a year for the average home. If your home is situated underneath significant tree growth and overhanging branches, you may need as many as 3 to 4 gutter cleanings per year for them to remain in good operating order. Gutter guards, or some sort of downspout strainer, are a good idea for these types of home situations. A good time for gutter cleaning is either in the spring or fall months.
Siding Cleaning: This is typically not a yearly job, but if your home is exposed to the elements, you might consider it every 2 to 3 years, A more frequent cleaning might be necessary for north-facing or heavily shaded sides of the house. We advise this job to be performed in the spring or summer months. There is more likelihood of you being outside during this season, so you'll be able to notice and enjoy your clean exterior.
Window Washing: Window washing is an important part of regular home maintenance and should be done at least twice a year – typically in the spring and fall for most climates. Not only does window washing help ensure your windows are clean, but it also allows for a visual inspection to identify any cracks or gaps that might need repair. It's important to monitor these issues as they can lead to energy inefficiency or even moisture damage over time.
If you find any of these signs during your inspection, be sure to call an experienced professional right away so they can determine what repairs or replacements may need to be done to keep your home safe and energy efficient moving forward.
Vinyl Deck Cleaning: The timing for cleaning vinyl decks is chiefly determined by the amount of use it gets and its exposure to the sunlight. When stains caused by algae and ground in dirt discolour the surfaces, simply hosing it off isn't enough. Take advantage of our service while we're on the job. Ask them to take a look and make suggestions.
You might consider a good cleaning to start the outdoor season. The spring and summer months are good times to prepare the surface for fun family outdoor activities.
A Complete Clean: As a roof cleaning company, we specialize in keeping your roof and gutters in good condition so that your most prized possession, your home, is protected. Your yard is also under constant attack with spores from sources like surrounding plant life, rain, and leaf debris, and even your vehicles are constantly exposed to spores from elsewhere. At this time of year in Vancouver, it is not uncommon to experience frequent rain and for the ground to be soaking wet. In addition to the surface of your roof, it is only natural that our expert service can take care of your surrounding property as well.
Each yard is different and requires a unique solution. We can keep a file and an annual schedule that is perfect for your specific requirements. The maintenance of driveways, stone features, staircases, and pathways is also necessary to prevent algae and moss growth. Regular cleaning will maintain their structural integrity and provide a safer outdoor space for your family's outdoor activities. This may require power washing, chemical treatments, brushing or scrubbing surfaces with a brush or scrubber specifically designed for these outdoor surfaces. It is also important, in some situations, to apply sealants and waterproofing agents for additional protection from water damage.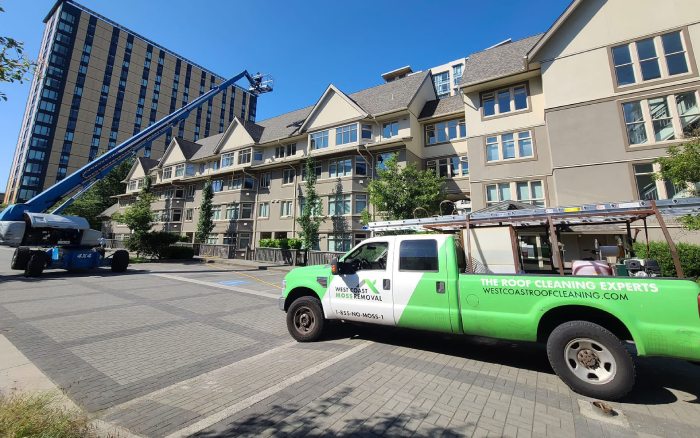 Annual Roof Cleaning with West Coast Moss Removal
For annual roof cleaning in Vancouver, contact West Coast Moss Removal. Cleaning your roof annually is a great way to maintain a well-protected home. And we are professionals that can create a schedule and a unique and comprehensive plan for your property, so it will always be protected from damaging conditions. Our experienced algae and moss removal team of professionals know just what your roof and your surrounding property need. Contact us for a free walk-through, evaluation, and estimate.