How to extend your cedar roof's lifespan?
Cedar roofs are highly sought after for their natural beauty and long lifespan. But like all roof materials, cedar roofs need regular maintenance to ensure that long lifespan, maintain their functionality, and continue looking good.
West Coast Moss Removal is Vancouver's roof cleaning expert. We have cleaned over 2000 roofs since 2011. We have proven that the best way to maintain a cedar roof is through regular cleaning. When dirt, grime, moss, mildew, and other debris from surrounding trees and weather collect on the roof surface, it can prevent the run-off of water. When this happens, the water can collect in pools, soak into your roof, and cause the roof to rot and fail.
When to Clean Your Roof
It's a good idea to have your roof inspected annually. Like any regular health checkup, this will identify a situation before it becomes a significant problem. If anything is detected, you should address it immediately.
The average frequency of cedar roof cleaning is about every 3 to 5 years. Several factors influence this, however, including your location. Location can mean either climate and weather or if your property is in a heavily wooded spot. Another factor is how old your current roof is.
The best time of year for roof cleaning is typically during mid-spring or early fall, once winter weather is over or before the fall of autumn leaves.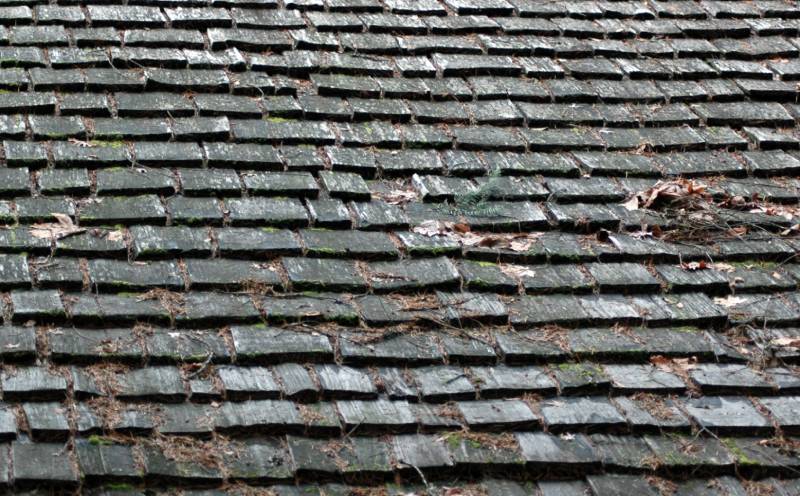 We know this job well and have been doing it for ten years. We specialize in moss removal and roof cleaning. Our focus on roof cleaning means that we remain ahead of the curve on roof cleaning technology and methodology.
West Coast Moss Removal cleans cedar shake roofs using the soft washing method exclusively. Soft washing lets the detergent do the work instead of a damaging high-pressure blast of water. The detergent used kills the moss, algae, fungi, or lichen that can rot the cedar shake. High-pressure water can push this material deeper into the roofing instead of addressing "the root of the problem."
If required, we may manually and carefully remove heavy moss and debris buildup first, before applying the cleaning solution. As this solution is being applied, another team member rinses and dilutes any spray that may come off your roof. We also can apply a solution that achieves longer-lasting protection.
Prevention
Look at your roof or your neighbour's roof. Can you see moss or the black stains of algae? Even if you don't see any on your roof, if your neighbour's roof has moss, yours soon will, especially if their property shares the same conditions as yours. The primary causes of moss and algae are most times moisture, shade, the proximation of trees, or a combination of all three.
We can help ensure that your cedar roof lasts for many years to come.
Who Better to Clean Your Roof than Roof Cleaning Experts?
Contact West Coast Moss Removal to learn more about how to get the most life out of your cedar shingle roof. Fill out a brief confidential online form for a free quote.
Contact us any time for questions or comments. We're looking forward to hearing from you!